America must invest and innovate to strengthen our economy, our communities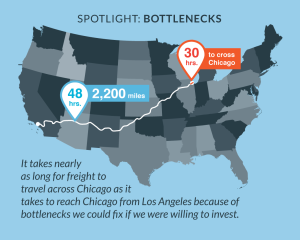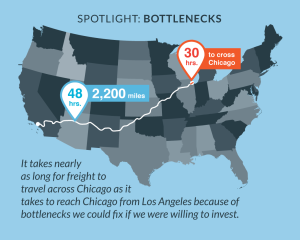 Strong local economies are the foundation of a strong national economy. Across the country, business, civic and elected leaders understand that a strong transportation network drives the success of our local economies.
They know local employers need to be able to recruit and retain workers both within and from outside their home communities, and they need efficient ways to get their goods to market. Workers of all incomes need affordable, dependable access to jobs. And our cities, suburbs and towns must be able to attract talent and compete on a global scale.
In communities across the country, local leaders are responding to new economic challenges with innovative plans for their transportation networks. But alone, they lack the resources, and the control over them, to build and maintain the infrastructure their economies demand. At the same time, transportation funding at all levels of government is shrinking rather than growing, due to slackening gas tax receipts and budget cuts.
This situation threatens America's ability to compete economically. Transportation for America is bringing people together to change it, in Congress and state houses across the nation.
WHAT IT MEANS TO SUCCEED
We envision a strong national economy in which federal and state governments team up to invest in infrastructure and innovation in our local communities – the true engines of economic success.
If we invest in creating a strong, modern transportation system for the 21st century, we will be creating prosperous cities, towns and suburbs where businesses thrive and people of all incomes and ages can live healthy and productive lives.
Questions? info@t4america.org